Kitchen Display System (KDS)
Our cloud-based Kitchen Display System (KDS) integrates fully with third-party delivery providers and all S4D sales channels so that every order can be efficiently prepared by kitchen staff, and you have all orders in the same place for them.
All orders integrated into one place
Intelligent ingredients order
Automated prioritization
Additional pack screen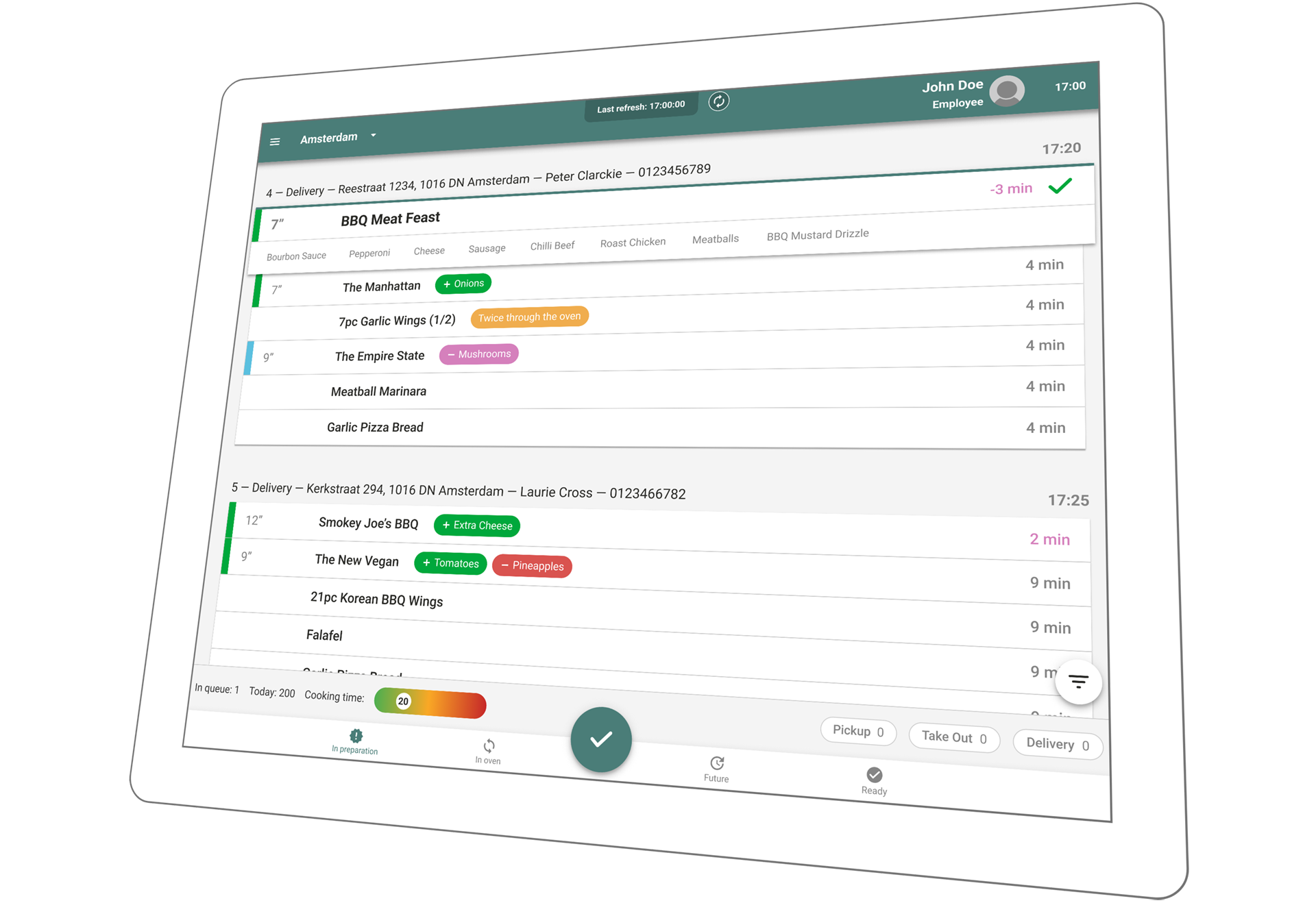 Order of ingredients
Save the right order of ingredients according to your recipes. Once configured, the KDS displays the correct order easy-to-see.
Color code and remarks
Our KDS supports color code and remarks configuration. This helps to see characteristics of dishes, such as special ingredients, warm or cold served dishes or removed and added items.
Audio and time notification
New orders and orders with a long waiting time trigger an audio notification to raise the attention of kitchen staff. The timer on each order indicates additionally how much time is left to prepare the order in time.
Order prioritization
The KDS helps to stay on top of orders by offering filters. Prioritize orders and filter by delivery times or order types, such as dine-in, delivery, or pick-up.
Order information and remarks
Several remarks can be shown to give your kitchen staff the information they need during the preparation.
Information such as business accounts, new customer indications, third-party delivery orders, or customer notes are displayed in a visually structured way next to the standard order information.
Order planning
The map view enables combining geographically related orders. A separate tab for future orders helps to stay informed about pre-ordered orders while letting kitchen staff focus on current orders.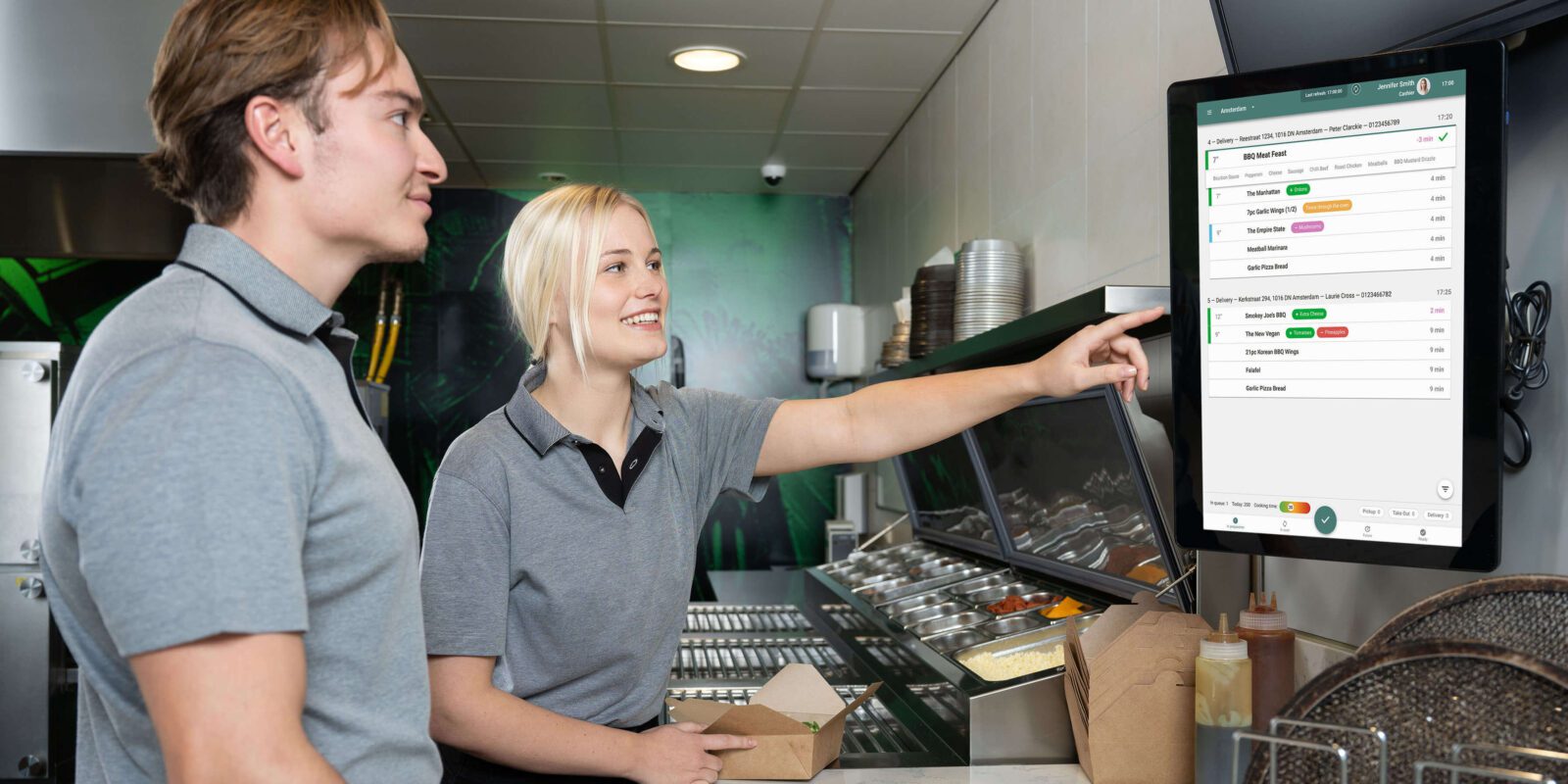 Advantages of our kitchen display system
Faster order preparation
The clean and uncluttered design focuses on increasing efficiency by using smart color codes and ingredients order.
Higher order accuracy and reduced errors
Thanks to the correct ingredients order and remarks section, the restaurant staff is onboarded faster and produces fewer errors. This reduces losses and increases order accuracy.
Easy order prioritization
Automatic order prioritization helps your restaurant staff to focus on the fast and correct preparation of the orders rather than wasting time on planning.
Accurate order status update
Customers benefit from accurate order updates on the Website or Consumer App once restaurant staff changes the order status on the KDS.
Possibility to combine orders
Restaurant staff has the freedom to manually prioritize orders and change the preparation status accordingly. In that manner, geographically related orders can be strategically prepared and delivered together.
More insights and the ability to look ahead
Whether to stay ahead of upcoming orders or quickly check in with customers on current orders. All required information can be found in one KDS.
Turbocharged e-commerce
Our restaurant chain software provides a stable and scalable e-commerce platform
Omnichannel approach
Point of Sales (POS)
Self-Order Kiosk
Website and Consumer App
Third-party delivery integration
Continuously improved UI/UX design
Loyalty program
Incrementally increase
Conversion rates
Average order value
Customer retention
We turbocharge e-commerce for your restaurant chain and help you drive more orders.
Operational control
Our omnichannel solution for restaurant chains provides you with operational control and continuous development to help your chain succeed.
Centralized power
Central menu management
Automated workflows
Configurable product modules
Third-party service provider integration (Deliveroo, UberEats, JustEat TakeAway, and more)
Continuous Development
Bi-weekly launch of new features and improvements
Dedicated customer success partner
Sharing of industry best practices
Actionable data
We provide real-time access to strategic insights and full ownership of data across the complete order and customer journey.
Preconfigured reports on 
Sales
Loyalty and coupons
Restaurant stock
Employee management
Product performance
Store-to-store performance
Net Promoter Score (NPS)
Custom reporting 
Power BI integration
Custom data requests
Datapoints across the whole order journey
Start gaining a comprehensive understanding of your business and make data-driven decisions to drive success how you define it.
Questions about our kitchen display system?
What to expect
Get an introduction to our solution and find out how we can help you increase your revenue and save on commission. We can build a personalized business case catered to your restaurant chain