Net Promoter Score (NPS)
Know what your customers think and make the life of consultants easier. The reviews and NPS help your restaurant chain understand customer perception of products, stores, and services. Use this valuable feedback to optimize results and improve the performance of your stores.
Review Dashboard
Net Promoter Score (NPS)
Chain-wide and focused view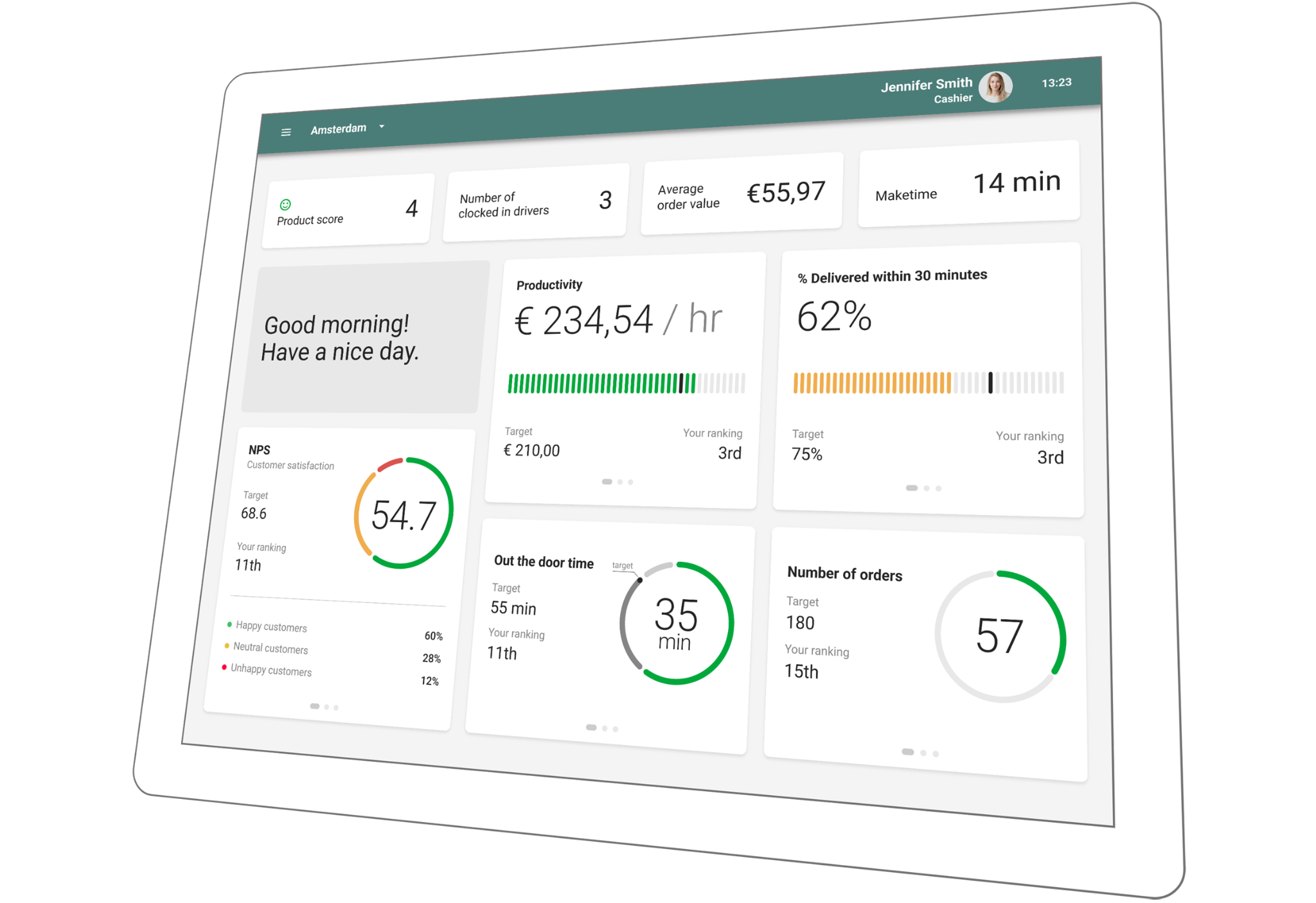 Online surveys
Customers receiving an invitation to rate their order experience via email, app notification, or text message can fill out the survey conveniently online. Find out how customers perceive the food, delivery, or overall experience of ordering with you.
Customizable questions
Configure your own questions in the language and style suitable for your customers and add images or GIFs to make it fun. Templates are available.
Chain-wide or focused NPS
The NPS reporting provides you with the possibility to see the average across the whole chain as well as to focus on a specific store, product, or employee. This allows a comparison between stores, regions, and performance against the chain-wide average.
NPS reporting period
Compare either 7 days, 30 days, or 90 days of NPS performance.
Available on the POS
The review and NPS dashboards can be easily accessed through the POS. This enables the possibility to check the performance at any time for restaurant staff to see how their store is performing compared to other stores.
Advantages of consumer data
Actionable customer insights
Know what the customer thinks about the service and products of your restaurant chain.
Menu engineering
Identify the best and worst performing products and adjust the menu and pricing accordingly.
Increased store performance
The gamification and availability of the dashboard in the store motivate to increase employee performance.
Increased service quality
By making ratings and qualitative feedback available to customers which can be traced back to stores, the staff is motivated to increase the quality of food and delivery service.
Identify training opportunities
Continuously below-average performing stores might need more attention and training to perform as desired. Measuring performances helps to identify these.
In-depth feedback
You can access the complete written customer feedback to give NPS scores and ratings a context and start effective measures for improvement.
Turbocharged e-commerce
Our restaurant chain software provides a stable and scalable e-commerce platform
Omnichannel approach
Point of Sales (POS)
Self-Order Kiosk
Website and Consumer App
Third-party delivery integration
Continuously improved UI/UX design
Loyalty program
Incrementally increase
Conversion rates
Average order value
Customer retention
We turbocharge e-commerce for your restaurant chain and help you drive more orders.
Operational control
Our omnichannel solution for restaurant chains provides you with operational control and continuous development to help your chain succeed.
Centralized power
Central menu management
Automated workflows
Configurable product modules
Third-party service provider integration (Deliveroo, UberEats, JustEat TakeAway, and more)
Continuous Development
Bi-weekly launch of new features and improvements
Dedicated customer success partner
Sharing of industry best practices
Actionable data
We provide real-time access to strategic insights and full ownership of data across the complete order and customer journey.
Preconfigured reports on 
Sales
Loyalty and coupons
Restaurant stock
Employee management
Product performance
Store-to-store performance
Net Promoter Score (NPS)
Custom reporting 
Power BI integration
Custom data requests
Datapoints across the whole order journey
Start gaining a comprehensive understanding of your business and make data-driven decisions to drive success how you define it.
Questions about the Net Promoter Score?
What is the Net Promoter Score?

Net Promoter Score (NPS) is a customer loyalty and satisfaction measurement taken by asking customers how likely they are to recommend your product or service to others on a scale of 0-10. It can also be used in combination with other feedback questions.
What information is worth measuring as a quick-service restaurant chain?

As a quick-service restaurant chain owner, you should know your best and worst-performing products. It is also important to measure service quality, such as courier ratings. Both information can be retrieved from customer reviews.

You should also be able to measure the Net Promoter Score (NPS) as this provides you with a tool to quantify customer satisfaction levels.
What to expect
Get an introduction to our solution and find out how we can help you increase your revenue and save on commission. We can build a personalized business case catered to your restaurant chain