Trenta Pizza
Trenta Pizza turned to S4D seeking a quick-service restaurant software expert who provides a scalable solution that can handle multiple sales channels and growing business operations. Stefan Alecse, the COO of Trenta Pizza sees in S4D a partner that is able to supply the scalable restaurant software and industry experience that will help the brand drive future growth.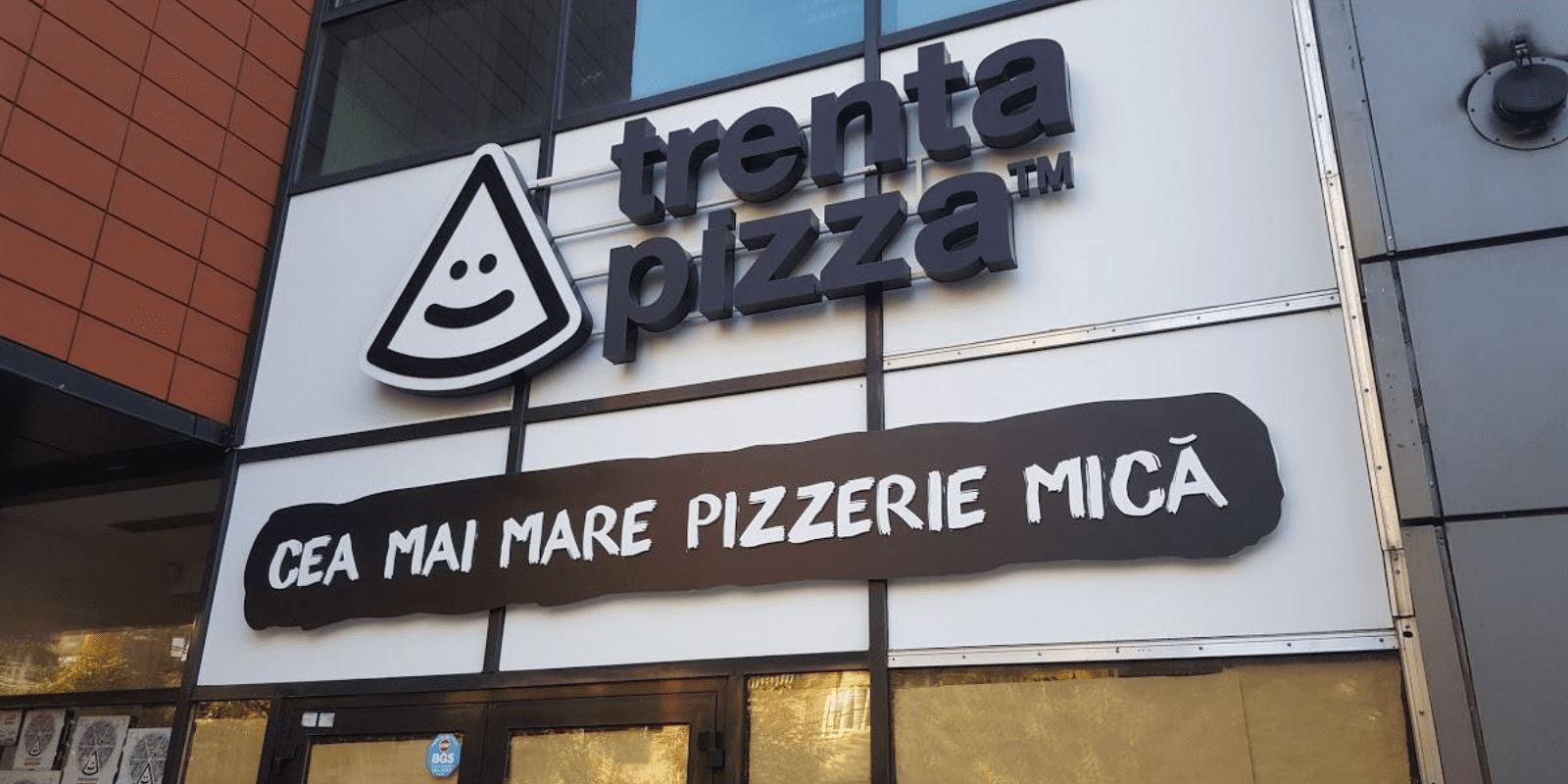 Website, Consumer App, Point of Sale
The challenge
Trenta Pizza is the most renowned pizza delivery company in Romania. It is a family-owned and operated pizza chain with its own driver fleet. The brand was founded in 2006 in Romania and has stores across Bucharest. Customers enjoy authentic Italian-style pizza and convenient delivery service. Initially, the family-run business relied on an in-house restaurant management system, including a POS and website for online ordering, which proved sufficient for managing the first few stores. However, as the aim was to expand the business, it became apparent that the in-house system needed more scalability and required industry expertise.
Adding new and improving existing online order channels would result in menu management becoming a daunting administrative task. Moreover, entering third-party delivery platforms would require additional menu management efforts and raise questions about how to integrate the in-house systems with external parties.
The pizza chain was in need of a software supplier with significant experience in scaling restaurant chains who can share best practices to boost operational efficiency and order volume.
The solution
Trenta Pizza first crossed paths with S4D at the annual Pizza Expo in Las Vegas, where the S4D team demonstrated their expertise in scaling up other pizza chains.
The family business has freed itself from time-consuming software development tasks by now. Since 2019 S4D has provided Trenta Pizza with all the digital ingredients to manage the food delivery journey end-to-end, connecting it to all their stores in a quick manner.
Having 60% of phone orders done online (via app or website) resulted in higher AOV and lower operating expenses. S4D, therefore, lived up to its mission by helping Trenta Pizza improve its bottom line.
One digital solution to boost order numbers
With a fast website and consumer app optimized for conversion, Trenta Pizza is achieving an increasing amount of direct orders. More than two-thirds of consumers ordering from Trenta Pizza place their orders via their direct order channels, leading to a higher net profit for the pizza chain.
As the S4D system offers integrations to third-party delivery platforms, the Romanian pizza chain can seamlessly integrate with local aggregators, such as Glovo and Bolt Food to maximize reach to consumers who are not yet familiar with Trenta Pizza.
"Offering online ordering is imperative in 2023. Large parts of our marketing activities are online, too. Thanks to S4D we have our own website and even a mobile app. Now, Trenta Pizza is well-equipped to fully leverage the online business!" – Stefan states.
All orders automatically flow into the POS which connects further to the kitchen and delivery systems. By managing all orders from one place, the administration work becomes less while the order numbers increase.
Central menu management saves time and reduces human errors
Trenta Pizza COO Stefan Alecse can easily change the menu on a monthly basis within minutes. All sales channels are managed from a central perspective so that product or price changes reflect immediately on all sales channels: app, website, POS, third-party platforms (like Glovo and Bolt Food). This means that any product or price changes are immediately reflected across all direct or third-party sales channels, eliminating the need for repetitive manual menu changes and drastically reducing the chances of human error.
The simplified menu management enables Trenta Pizza not only to be present on third-party platforms but also to open a new sales channel, the consumer app without hassle. Both help to reach more consumers and turn them into loyal Trenta Pizza customers.
"I am updating the menu myself. It is very easy and changes reflect in all our sales channels." – says Stefan.
Gathering customer feedback across the restaurant chain
Integrating all sales channels enables the gathering and storage of customer information during the order process. All customer data is 100% shared with Trenta Pizza. With all the information the team is able to send feedback forms via email, SMS or even call their customers to ask about the order experience. According to Stefan Alecse, nurturing a close relationship with customers is very important for the pizza brand and useful for measuring customer satisfaction and service quality across the restaurant chain.
"We keep close contact with our customers to provide the service and product quality they expect. Our prices are higher than the competition, but gathering feedback and improving our service accordingly keeps customer retention high. We offer premium service and our customer value it." – Stefan states.
Powerful reporting to keep operations and employee scheduling lean
Restaurant chains in Romania, like many other industries, are grappling with labor shortages and rising prices. To tackle these challenges, Trenta Pizza has leveraged S4D's Power BI integration, which provides a comprehensive view of order history and trends. This enables the company to plan its resources more effectively and share information easily with stakeholders.
Operational reports generated with real-time data reveal important metrics such as driver hours and the number of deliveries per driver. These insights help Trenta Pizza strike the right balance between providing excellent service and keeping labor costs in check. Meanwhile, sales reports give a clear picture of which products are selling well and how different stores are performing against each other.
"With the relevant data from S4D and its Power BI integration, our restaurant managers can optimize staff scheduling and save costs. The reports show for example how many orders a driver delivers during his or her hours. Capturing the information shows us how our forecasts perform compared to the reality" – says Stefan.
Scaling the restaurant chain in the future
After the inflation peak, the family business plans to expand its pizza delivery footprint by opening more stores across Romania. Future stores can be quickly added to the flexible software system. Stefan Alecse also appreciates the user-friendliness of the Point of Sale (POS), Kitchen Display System and Dispatching Display, which speed up the onboarding of new employees.
After adding the consumer app as an online ordering solution, Trenta Pizza is looking forward to launch the new consumer website that is tailored to the needs of Trenta Pizza and is part of the S4D omnichannel solution.
The dedication to providing a seamless digital ordering experience is an important pillar of the brand's strategy. By expanding physically and being open to new e-commerce technologies, Trenta Pizza is well-equipped to drive future success and take its family business to a new level.