The Shopify of the QSR Market: S4D's New Website, App, and Loyalty Program Features
Ordering your favorite meals online – whether through a website, app, or delivery platform – has become an unstoppable trend, and there's no sign that customers are losing their appetite for it anytime soon.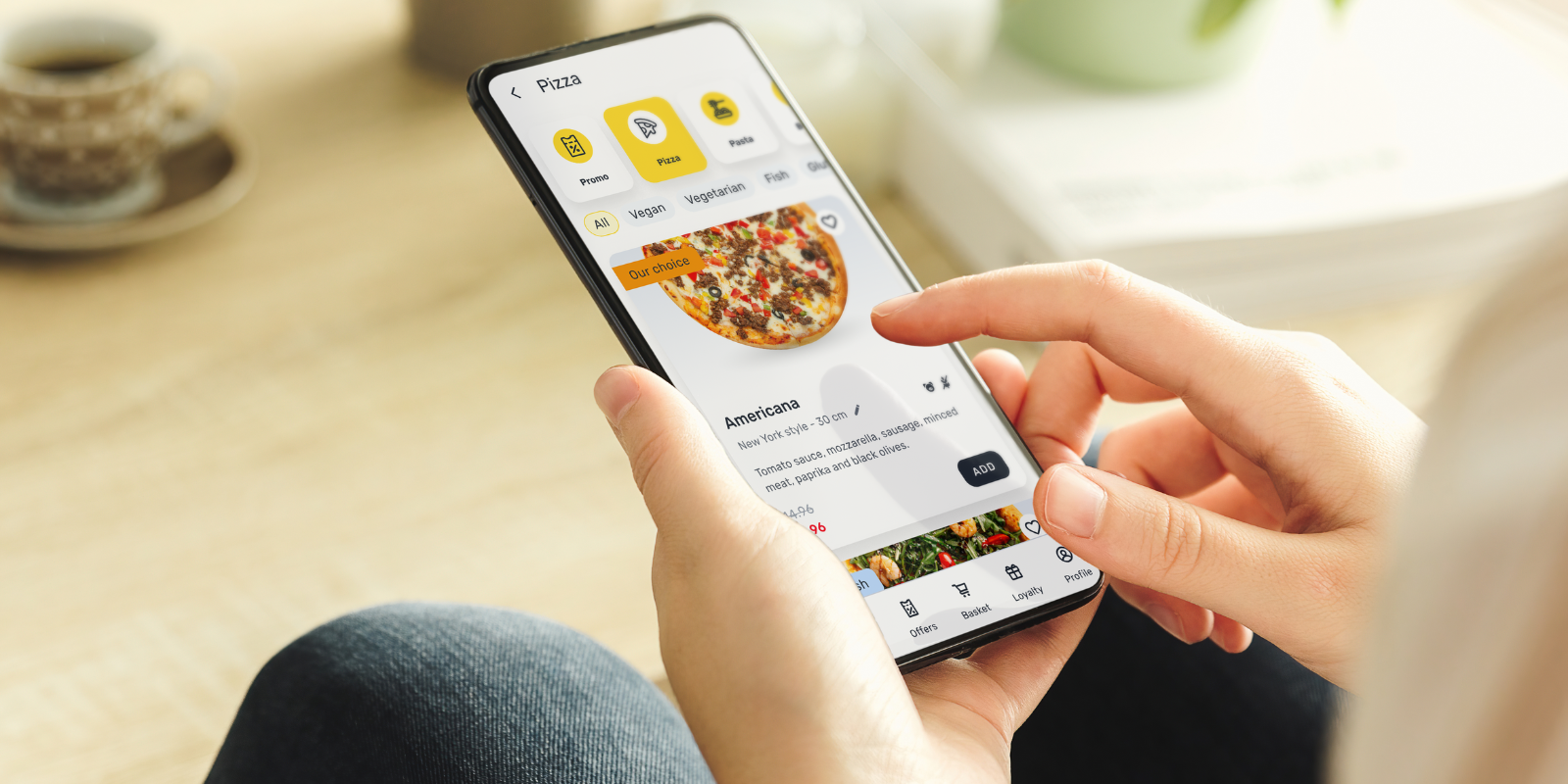 With this in mind, our Product Owner of E-commerce, Mike van de Weerdt, and his team aimed no higher than creating an online ordering platform: new features on the website, app, and loyalty, that live up to the newest trends in the e-commerce industry and provides a similar or even better experience than the well-known delivery platforms (Uber Eats, Just Eat, Takeaway, etc.).
"With our new website, app, and loyalty program features, our mission is to be the "Shopify of the QSR market." We offer an ultra-smooth, adaptable platform that empowers restaurant chains to have full control over their look and feel while personalizing the order journey for each customer from A to Z.
By leveraging the knowledge we gained from working with industry-leading restaurant chains, we've learned what it takes to develop a website, app, and loyalty that focuses on the areas that drive the most significant increase in conversion rates." – Mike van de Weerdt, PO of E-commerce.
Where Online Ordering Becomes a Personalized Experience
Personalized ordering experiences are becoming really popular when it comes to ordering food online. Research by Epsilon found that 80% of customers are more likely to make a purchase when a brand offers personalized experiences (Owens, 2023).
"S4D's website & app are the places where you love to order your favorite food, that serves you quickly, that knows who you are and makes you feel special whenever you come back." – Mike van de Weerdt, PO of E-commerce.
Personalization from Start to Finish
Informed Cross and Upselling
We personalize the customer journey by tailoring loyalty deals on our promotion page, suggesting complementary products on PLP and PDP, and offering personalized upsells after adding items to the cart to boost order value. We provide thoughtful promotion suggestions during checkout.
Our promotions aim to create a satisfying shopping experience. We entice new customers to make their first order, appreciate loyal customers with special offers, and seek to turn occasional buyers into loyal customers through deals based on their purchase history.
From the moment customers land on your page, the new website or app greets them by name.
The recommendation cards suggest products based on their preferences and past orders. We will also show them the best deals and/or loyalty deals.
The menu options are adapted according to their purchase history, catering to meat lovers and vegetarians alike.
For those with allergies, the ingredients that need to be avoided are eliminated. Customer can also choose to search by their favorite ingredient, for example: chicken.
The checkout process is now easier and more convenient than ever. Returning users benefit from "express check-out"
Integrated Loyalty Programs
Our platform makes it easy for users to join our loyalty program at various points in their journey. You can sign up not just on special promo pages but also, for instance when you're confirming an order. This helps you easily use your loyalty rewards when you're choosing products and taking advantage of promotions.
With our loyalty program, our partners have seen 4x more orders and 2x more revenue from loyal customers vs. non-loyal customers.
Live Updates & Location Tracking
After placing an order, customers get live updates on the status of their order and a real-time Estimated Time of Arrival (ETA). In plus, they can track the location of their delivery in real-time so they always know when their food will arrive.
The e-commerce platform uses the Net Promoter Score (NPS) to measure customer satisfaction and encourage reviews. NPS addresses how likely customers are to recommend your brand to others. By asking this question, the platform seeks direct feedback from customers.
This approach helps the platform continuously monitor and improve its services, ensuring customer satisfaction even after they receive their orders.
S4D's Strategic Approach to Innovation
Key in the rapidly evolving quick-service restaurant industry is that restaurant chains must see direct, tangible changes.
"With our Agile approach, we significantly reduce the time-to-market for all new features. This means that restaurant chains receive multiple updates and features to test and experiment with early in the process" – Mike van de Weerdt, PO of E-commerce.
Evidence-based development plays a crucial role in our process. UX research, usability testing, and A/B testing, inspired by industry giants such as Solasidio, Amazon, and Bol.com (the biggest webshop in The Netherlands & Belgium), are the building blocks for the creation of every component. A/B testing plays a pivotal role in our development process, incorporating usability testing for every new component.
With the new website, app, and loyalty features, franchisees or headquarters have full control over their online presence. They can effortlessly drag and drop to configure their own pages, customize banners, product cards, and more. Therefore, there's no need for any coding skills.
Moreover, the new website, app, and loyalty program are designed to collect 100% of the data from all touchpoints. This full data collection ensures that headquarters have access to all valuable insights, allowing them to make data-driven decisions and boost their conversion rates, leading to more sales.
Keep customers coming back to you time and time again.
S4D's new website, app, and loyalty features aren't just about providing customers with the personalized experience they crave. It's about making sure that the right offers, upsells, and calls to action are at the forefront, ultimately increasing the average order value and conversion rate.
In doing so, we maximize the profitability of restaurant chains while delivering an outstanding online ordering experience.
Check it out for yourself ↓