How to Triple Your QSR's Online Revenue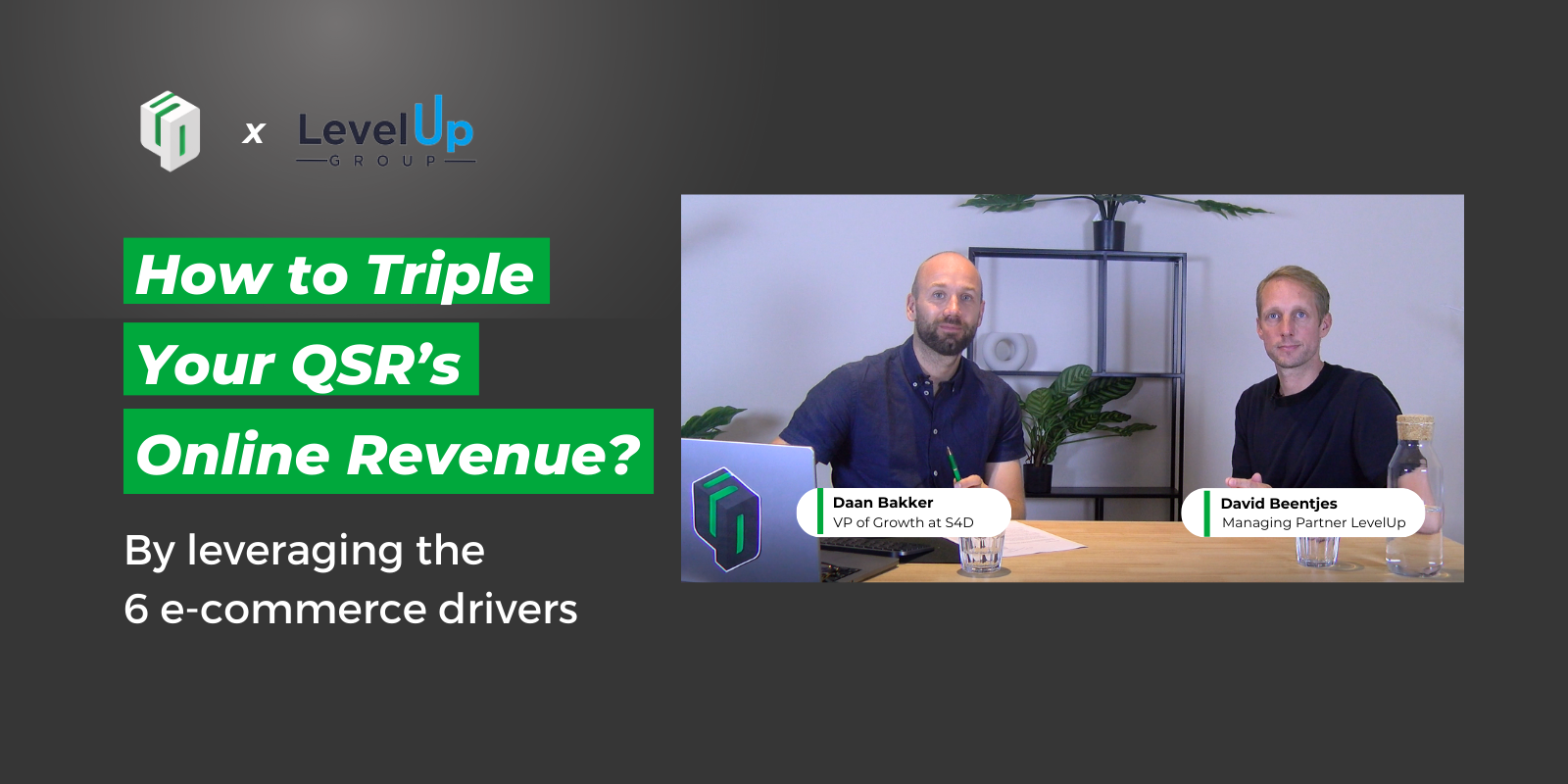 Keeping up with the speed of innovation is one of the crucial challenges quick-service restaurant (QSR) chains face.
Having a digital marketing strategy, including an omnichannel solution (on the software side and service side) allows quick-service restaurant chains to focus on what they do best – make the tastiest food for their customers, while the digital needs of their customers are taken care of.
David Beentjes has worked with New York Pizza for 12+ years, a QSR chain that grew to 350+ locations in Europe. David's view on the importance of digital marketing for QSR chains is that in order to become profitable, they need to invest in well-optimized software and use strategic digital marketing.
During the webinar, David Beentjes highlights the 6 e-commerce drivers that QSR chains should focus on to drive revenue growth:
1. Awareness: Building brand awareness is crucial. QSRs must be present where their customers are, which largely means establishing a strong online presence via advertising on, for example, TikTok, Google, or Facebook.
2. Traffic: Attracting both foot traffic to physical stores and online traffic to your website or app is vital. This is where the journey of building a direct relationship with customers begins.
3. Conversion: The core of digital marketing is not just about the product but also effectively communicating and engaging with potential customers online. Customers expect a seamless experience and an easy ordering experience when they order on a restaurant's own website and app.
4. Retention: Repeat orders are essential for sustained revenue growth. Digital marketing plays a critical role in ensuring that customers return for more. Setting up a loyalty program is a key driver in getting customers to order more frequently. We see that with the S4D loyalty program, customers order 4x more per year.
5. Transaction Value (Average Order Value – AOV): Increasing the basket size and average order value is one way to boost revenue. Key in this is doing A/B testing and adding upsells during the different steps of the order journey.
6. Virality: Encouraging satisfied customers to become advocates for your brand can lead to organic growth. This is measured by the Net Promoter Score – NPS, which stores can see directly in the POS.
The Power of Digital Marketing
David explained that the primary reason for investing in digital marketing is to be where your customers are. The advantages of digital marketing include the ability to collect extensive data on customer behavior, allowing for more informed decision-making.
One critical aspect he touched upon was A/B testing, which helps optimize websites and ordering experiences. By comparing two versions of a webpage with slight variations, businesses can determine which one resonates more with their audience.
Customer Lifetime Value
David stressed the importance of looking beyond the initial purchase and focusing on improving customer lifetime value. This perspective allows QSR chains to justify their marketing investments and assess the long-term impact of their strategies.
Transitioning from Third-Party Platforms
To reduce dependence on third-party delivery platforms (like Uber Eats, Just Eat, Takeaway, or Deliveroo), QSR chains should offer value to customers ordering directly from their websites. This could include customization options, convenience, and loyalty programs.
Embracing New Trends
David recommended staying ahead of the curve by experimenting with emerging trends like TikTok and influencer marketing. Being an early adopter can be cost-effective and deliver significant results.
Conversion Optimization
Finally, he highlighted that conversion optimization is an often overlooked aspect of digital marketing in the QSR industry. Small changes to website design and functionality can result in a substantial increase in revenue without the need for extensive advertising spending.
Practical Steps for Tripling Online Revenue in QSR Chains
Loyalty Programs Drive Direct Sales:
Implement loyalty programs on your website to incentivize customers to order directly from you rather than through delivery apps. Offer value, convenience, and customization options to make your platform more appealing, and save up to 30% of your profits.
Embrace Agility:
Smaller QSR chains have the advantage of agility. Experiment, innovate, and pivot quickly to respond to market changes and customer preferences in order to stand out from the competition.
Budget-Friendly Experiments:
Don't assume that digital marketing experiments need to be expensive. Start with smaller experiments, and if they work, scale up. Remember that not all data is measurable; focus on actionable insights.
Diversify Your Approach:
Instead of focusing only on increasing traffic, balance your efforts across the 6 e-commerce drivers. Aim for improvements in conversion rates, awareness, and retention for more sustainable growth, to increase your revenue significantly.
Stay Ahead of Trends:
Be an early adopter of emerging trends like TikTok and influencer marketing. Experiment with these new channels to gain a competitive edge while costs are still low.
Prioritize Conversion Optimization:
Improve website functionality and user experience. This can significantly boost revenue without the need for heavy spending on platforms like Facebook or Google.
Rewatch the webinar and understand these practical steps in-depth, so that you can implement them for your QSR chains and start working towards tripling your online revenue and securing long-term success in the online world.